Highlights:
Realistic Life-sized Sex Doll] The erotic lifelike sex doll has tight vagina, anus and soft pert boobs. Pinch the gradual pink nipple, go through the real vagina/anus, feel the protrusions and particles on the inner channel of the new double helix, massage and wrap the penis. Enjoy the wonderful pleasure of sexual impulse when you caress his ultra-narrow waist and dive into.

[Love Doll with Dual-entry Design] The size of the realistic male masturbation sex toy is 16.5*7.7*6.3 in, with a 1:1 imitation of the human body ratio, and the length of the vagina and anal passage is the same as the length of the human body. Two completely independent channels give you more choices when making love, and you will crazy in the process of exploring.

[Highly realistic skin] The skin of the sex toy doll is smooth and soft, and the texture and particles visible to the naked eye, especially the fine lines around the vagina, make you feel like you are having sex with a woman! The doll is used together with a water-based lubricant, so you can better experience the moist and sticky feeling of the doll's vagina!

[Built-in Molded Skeleton] This hefty masturbator weighs over 17 pounds with molded skeleton in her back, which makes her upright and stable, enough for hands-free fun! Or you can grab the arms and legs of the doll and switch to your favorite sexual position as needed.

[Easy to clean and neutral packaging] The male masturbator made of high-quality TPE material is non-toxic and harmless, easy to clean, and can be used to simply rinse the love doll under running water. You can use the drying stick to dry it! And keep it in a dust-free, cool place. The products are provided to you in neutral packaging, so you don't have to worry about someone knowing what you ordered.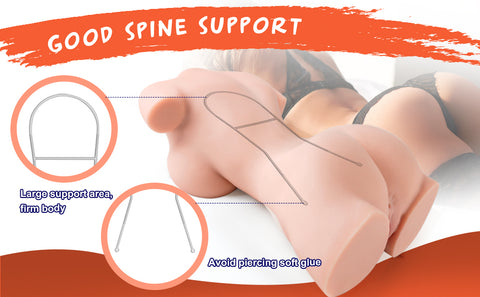 17 LB Sex Doll Male Masturbator, 3 in 1 Realistic Big Boobs Tight Vaginal & Anal for Men Masturbation, 3D Life-Sized Love Doll Pussy Ass Adult Sex Toy for Men Orgasm