Deciding to invest in a male masterbubator can be a difficult one. With so many different models and brands available, how do you know which one is right for you?
In this post, we'll help you choose the right male masturbator for your needs. We'll discuss different types of masturbators and the benefits of each, as well as provide some tips for choosing the right one for you.
What Is a Male Masterbubator?
So, what is the male masterbator? In short, it's a sex toy for men that replicates the feeling of sexual intercourse. It's usually made up of a soft, stretchy material like silicone, and it comes in a variety of shapes and sizes to fit every man's needs.
But why would every man need one? There are a few key reasons. First, the male masterbator is perfect for men who have trouble orgasming from regular intercourse. It also allows men to experiment with different types of stimulation (including anal play) and provides a great way to improve their stamina and ejaculatory control.
How to Use the Male Masturbator?
Now that you know what a male masterbator is and what it can do for you, let's talk about how to use it.
There are a few things to keep in mind when using your male masterbator. First, always use a quality lubricant with your toy. This will keep everything nice and slippery so it feels amazing. You can use either water-based or silicone-based lube, whichever you prefer.
Second, start by lubing up the toy and your penis. This will help reduce friction and increase pleasure. Then, grip the toy tightly and stroke it up and down your penis in a consistent motion.
Experiment with different strokes and speeds to find what feels best for you. Don't be afraid to moan and groan—let yourself go!
Tips for Using the Male Masturbator
So, you've decided to take the plunge and buy a new sex toy. Congratulations! You're about to embark on a new and exciting journey that will bring you hours of pleasure. But before you can enjoy your new toy, you need to know how to use it properly. Here are a few tips to get you started:
Always Use Lubricant
Lube is your friend. Always use a good-quality lubricant when using your male masterbator. This will help reduce friction and make the experience more pleasurable. When using a male masturbator, always apply a generous amount of lubricant to both the inside and outside of the toy. This will help to reduce friction and ensure a pleasurable experience.
Warm It Up
Many male masterbators come with a warming pad or case that helps to heat the toy to body temperature.
There are a few ways to warm up your male masterbator. One is to place it in a bowl of hot water for a few minutes before use. If your toy doesn't have this feature, you can microwave it for a few seconds or soak it in warm water before use.
You can even warm it up while you're using it! Just hold it against your body to heat it.
Take Your Time
Just remember to take your time and enjoy the experience. Masturbation is a fun and enjoyable experience, so don't rush it!
Always Clean The Toy After Use
Cleanse and care for your toy after use. Make sure to clean your toy with hot water and soap after each use. This will help keep it in good condition and prevent the build-up of bacteria.
What Are the Benefits of Using a Male Masturbator?
There are many benefits to using a male masturbator. Here are just a few:
Improve Erectile Dysfunction
In addition to improving stamina, a male masterbubator can also help to increase penis size and improve erectile function. So if you're looking for a way to improve your sexual performance, a masterbubator is worth considering.
Lowers the Risk of Prostate Cancer
One of the benefits of using a masterbubator or automatic male masturbator is that it can help to lower the risk of prostate cancer. The gentle warmth and moisture created by the device can help to keep the prostate healthy and functioning properly. This is a great choice for men who are looking for a way to reduce their risk of prostate cancer, or for those who have already been diagnosed with the disease.
Boost Your Confidence and Self-Esteem
There's no denying that the best sex toys like the male masterburbator toy can do wonders for your confidence and self-esteem. Knowing that you can pleasure yourself whenever you want is a powerful feeling and one that can boost your self-confidence.
Not only that but using a male masterbator also feels insanely good. The textures, the shapes, the variations—each one is different and designed to give you an amazing experience. That's why male sex toys are such a great investment: It not only makes you feel good, but it also feels amazing. What's not to love?
Increase Your Stamina and Prolong Your Sexual Stamina
There are plenty of great reasons to own male sex toys. For starters, they help increase your stamina and prolong your sexual stamina. They're also great for people who have trouble reaching orgasm, as they can help to bring you to climax more easily. And, of course, they're just plain fun!
When you masturbate using a masturbator, you're in complete control of the speed, intensity, and duration of the stimulation. This can help you to last longer and enjoy sex more.
Help You Overcome Premature Ejaculation
If you're looking for a way to overcome premature ejaculation, a male masturbator or automatic male masturbator could be the answer. These devices are designed to help you last longer in bed and give you the confidence you need to satisfy your partner.
Adult sex toys such as automatic male masturbators come in all shapes and sizes, so you can find one that fits your needs perfectly. Some are made from soft silicone, while others are made from harder materials like plastic or metal. Silicone sex toys can be used with or without lube, making them a versatile choice for any man.
Improve Erectile dysfunction
It's no secret that the male masterbator can improve erectile dysfunction. Many men rely on this little device to help them maintain an erection during sex. But how does it work?
The male masturbator creates a tight seal around the penis, which helps to create a vacuum. This vacuum increases blood flow to the penis, leading to a stronger and longer-lasting erection. Plus, it feels amazing! If you're looking for an extra boost in the bedroom, the male masturbator is the way to go.
Better Rest
Using a male sex toy not only will it improve your sex life and make you a better lover, but it will also help you to get a better night's sleep. So what are you waiting for? Order your male sex toy today and start enjoying all the benefits it has to offer!
Ease Stress
When it comes to the reasons why every man needs an automatic male masturbator or male masterburbator toy, stress relief is definitely at the top of the list. According to the American Psychological Association, stress is one of the most common mental health concerns in the US, and it can take a serious toll on our physical and emotional health.
Fortunately, self-pleasure masturbation can be an effective way to manage stress and anxiety. Not only does it help to release feel-good hormones like dopamine and oxytocin, but it also provides a temporary distraction from any problems or concerns you may be facing. And there's no need to feel guilty or ashamed about it – masturbation is completely normal and healthy!
Helps You Stay Healthy
Male masterbators help you stay healthy. Believe it or not, regular masturbation can help to keep you healthy both physically and mentally. Not only does it release stress and tension, but it can also help to improve your sleep and boost your immune system.
Makes You Happier
They make you happier. Masturbating releases endorphins, which are the body's natural "happy hormones." So not only will you feel good after a session with your male masterbator, but you'll also be releasing some of those feel-good vibes that can make you happier overall.
Makes You Smarter
They make you smarter. Yep, that's right! Studies have shown that masturbation can improve cognitive function and memory recall. So the next time you're feeling a little foggy, reach for your male masterbator instead of the TV remote and give your brain a little workout. You'll be surprised at the results!
Things You Should Know When Using Male Masturbators
These devices are a great way to add some extra excitement to your solo sex life. But before you make your purchase, there are a few things you need to know.
Not a Replacement
First of all, it's important to note that male masterbators should not be used as a replacement for real-world sexual encounters. They should be used as an additional tool to enhance your pleasure, and should not be relied on for all of your sexual needs.
Use Condom
Secondly, it's important to use a condom when using a male masterbator. This will help to keep the device clean and free from bacteria.
Don't Use Too Much Force
Remember to never use excessive force when using a male masterbator. This can cause bruising and soreness and is likely to result in blue balls. Be gentle and take your time - the payoff will be worth it!
How to Choose the Right One in the Male Sex Toy Industry
There are a few things you need to consider when choosing a male masterbubator.
Use
First, think about what you want to use it for. If you're looking for a basic machine to store and preserve sperm, then any model will do. But if you're looking for something more sophisticated that can also help you with fertility treatment, you'll need to choose a machine with more features.
Price
Another thing to consider is the price. The toys in the male sex toy industry range from around $200 to $2,000. Choose the one that fits your budget and needs.
Type of Warranty
When you're shopping for a male masterbator, it's important to consider the type of warranty offered. Most brands offer a warranty that covers the product for a certain amount of time, but some brands offer a lifetime warranty. A lifetime warranty is a great option if you want to be sure that your masterbator will last for years to come.
Size
When it comes to male masterbators, size does matter. And we're not just talking about the size of the toy itself. We're talking about the size of your penis.
If you have a small penis, you'll want to choose a masterbator that's on the smaller side. A large masterbator will only make you feel self-conscious and frustrated.
On the other hand, if you have a large penis, you'll want to choose a masterbator that's on the larger side. A small masterbator will feel tight and constricting, and will quickly become uncomfortable. Make sure to pick a size that's comfortable for you. You don't want something too big or too small.
Design
When it comes to male masterbators, there are a ton of different designs and styles to choose from. But, like anything else, not all of them are created equal. Here are a few things to look for when choosing a male masterbator:
Texture
One of the most important things to look for is texture. Make sure the toy has a variety of textures that feel good against the skin. This will help create a more realistic experience.
Durability
One thing to consider is durability. Your male masturbation must be made from high-quality materials that will hold up over time. This is especially important if you plan on using it frequently.
Luckily, most of the top brands use high-grade silicone, which is known for its durability and flexibility. So, you can be sure that your male masterbator will last for years of enjoyment.
Comfort
When it comes to male masturbators, comfort is key. That's why the best male masturbators are made from soft, pliable materials that feel amazing against your skin. They contour to your body for a snug, custom fit, and provide hours of stimulation and pleasure.
So if you're looking for a toy that will help you reach your peak every time, you need a male masturbator. With its soft, flexible material and amazing design, you won't be disappointed.
Portability
One of the best things about the male masterbator is that it's so portable. Since it's small and discreet, you can take it with you wherever you go without anyone knowing what it is. This makes it the perfect travel companion, whether you're on a business trip or vacation.
Material
The material is the other key consideration when choosing a male masturbator. Most are made from silicone, which is soft and feels lifelike, or TPE (thermoplastic elastomer), which is firmer and has a more jelly-like feel. Some are made from realistic materials like Cyberskin, which is a synthetic blend that mimics the softness and feel of human skin.
It's important to choose a model that is easy to clean and maintain. Look for models made from non-porous materials like silicone or ABS plastic, which can be washed with soap and water or toy cleaner.
Customer Reviews
Finally, make sure to read the reviews before making your purchase. The best way to find out if a product is right for you is to hear what other people have to say.
Frequently Asked Questions About Male Masturbators
How to clean the male sex toy?
Now that you know all about male masterbators, it's important to know how to clean them properly. This is essential to keeping the toy safe and bacteria-free.
The easiest way to clean a male masterbator is to rinse it with warm water and soap. Be sure to get into all the nooks and crannies of the toy, as this is where bacteria can build up. You may also want to use a toy cleaner, which is specifically designed to clean sex toys.
After cleaning, be sure to air-dry the toy completely before storing it away. Failure to do so may cause bacteria to grow and lead to infection.
Are male masturbators worth it?
So, are male masturbators worth it? In a word, yes. Male masturbators not only feel amazing, but they're also great for your health. They help to improve blood circulation, prevent premature ejaculation, and even improve sexual function in men with erectile dysfunction.
Plus, they're the perfect way to add some excitement to your sex life. If you're looking for a new way to experience pleasure, a male masturbator is a way to go. Trust us, you won't be disappointed.
Are male masturbators safe to use?
There's a lot of debate surrounding male masturbators and their safety. Some people will say that they're dangerous and can cause infection, while others believe that they're a safe and healthy way for men to explore their sexuality.
The truth is, male masturbators are safe to use as long as you take a few simple precautions. Firstly, make sure you always clean your masturbator after each use with warm, soapy water. Secondly, never share your masturbator with someone else, as this can lead to the spread of bacteria and infection. Finally, if you're using a masturbator that's made from silicone or other non-porous materials, you don't need to worry about bacteria build-up or infection.
When should I change my male masturbator?
Just like you would with any other sex toy, you should change your male masturbator when it starts to look and feel worn down. This means swapping it out for a new one every few months, or sooner if it becomes visibly soiled.
It's also important to keep your male masturbator clean and dry between uses. Wipe it down with a mild antibacterial soap before storing it away.
Can I use the male masturbator on my partner?
The male masturbator is a great toy for men who want to enjoy solo play, but it can also be used with a partner. Some male masturbators have an insertable sleeve that can be used to add extra stimulation for both partners. If your partner is hesitant to try anal play, the male masturbator can be a great way to get them comfortable with the idea.
Top 5 Male Sex Toys
Now that you understand the basics of male masterbubators, it's time to choose the right one for you. With so many options available, it can be tricky to decide which one is right for you. That's why we've put together a list of our top 5 picks to help make your decision easier.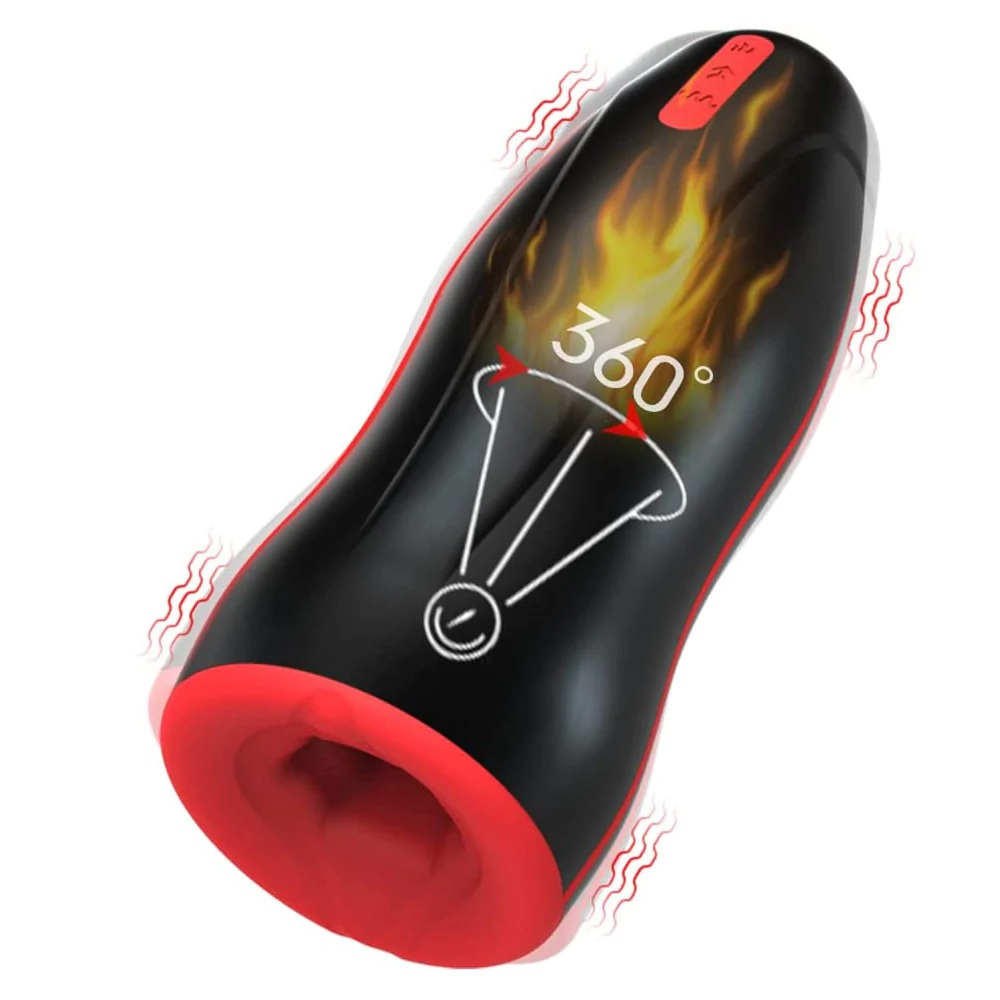 Highlights:
Innovative 360°Conical Swing Male Masturbators Drive your Cock for Riding Orgasm-
Compared with traditional rotating masturbator cups, Acmeros male masturbator adopts innovative technology. Its unique coning motion mimics the ass track during riding sex love, bringing your cock a brand new cowgirl sexual experience. 360°all-around motion curve will drive your glans penis with each swing and take you to the next level of satisfaction you never had before.
Adjustable 3 Swing Modes & 6 Surrounded Vibrations to Customize your Girl's Mode
Differing from other vibrating male masturbator that focuses on stimulation all over the body, this male vibrator targets swing modes and vibrations on your sweetest spots. Different swing modes match ambient vibrations, like different girls' swinging ass, just pick the one that suits you best before riding it to orgasm.
Medical Silicone Perfectly Paired with Oral Bumps and Ridges for Better-than-real Blowjob
With 4 rows of bumps and 2 rows of ridges, this penis vibrator stimulates your glans and shaft more than TPE material by increasing friction. Incredible touch silicone and well-designed interior, these two factors combine to deeply thrill your penis from all directions at once rather than simply satisfying the nerve-endings at your skin's surface. Also, a durable sex toy guarantees long-lasting pleasure.
Acmeros Delicious Warming Caps Out at a Maximum of 108°F for More Fervent Blowjob
This male masturbator cup wraps around the head of your penis like a fervent mouth, which attains 108°F, delivering warm and mind-blowing stimulation to this ultra-sensitive zone, perfect for kicking your pleasure sessions into high gear. Or take your fun to stratospheric heights by letting the insert warm up before play, then enjoy a deep throat sensation that sends you over the edge.
One Size Fits All & Easy to Grip
Well-designed Acmeros male sex toys fit in most penis sizes. Nestled within a discreet casing is Acmeros special design, it has a finger-like intimate shape on the outside just for easy grip. It's also completely waterproof for shower adventures and easy cleaning, and works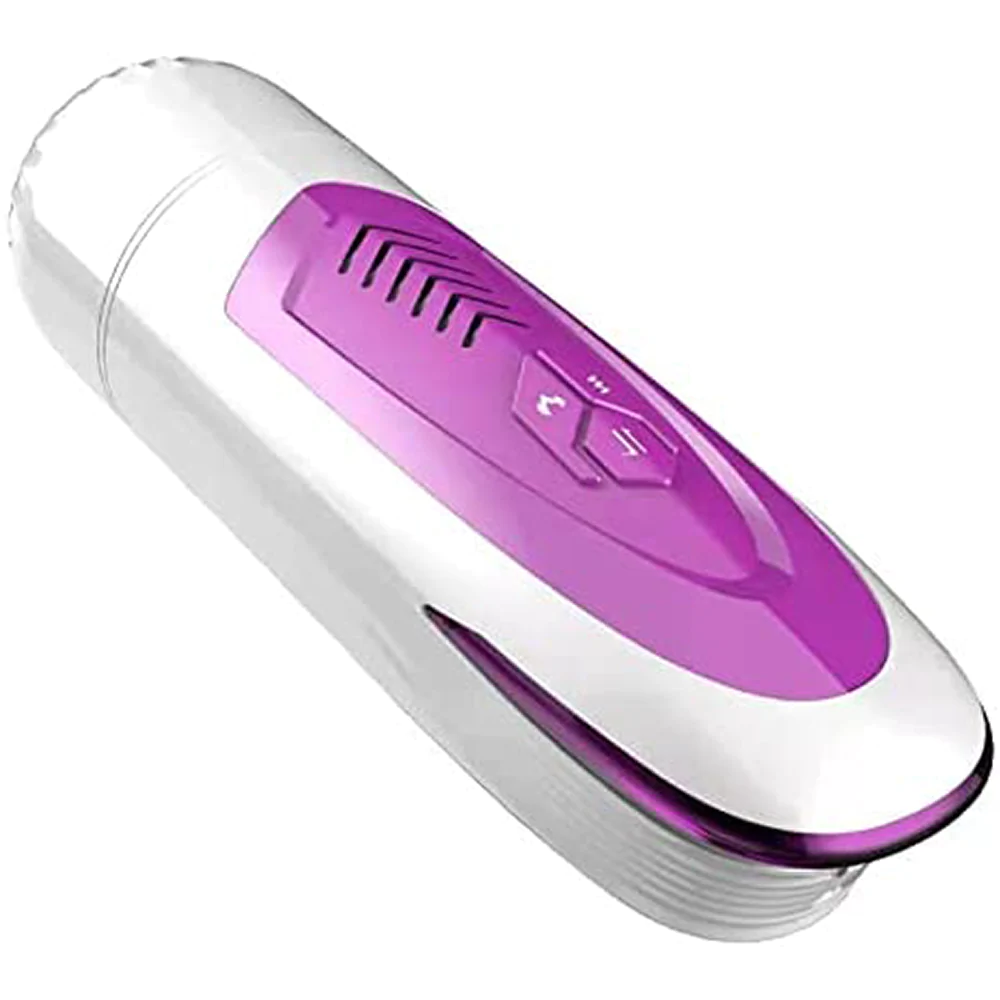 Highlights:
As a penis pump with 5 suction intensities, you will be able to increase the diameter and length of your penis. Just choose a proper level according to your specific needs for male enhancement stronger and bigger erection.
Innovative Crystal Texture - The sleeve is well designed with a good amount of texture. The clear side allows for nice visual stimulation. A variety of soft and elastic tentacles touch every inch of your cock and provide the most natural stimulation feeling that only a real partner can provide
While this transparent male masturbation sleeve was designed to fit into the pump, this stretchy pocket pussy masturbator can also be used independently, on its own, for a completely satisfying stroking experience.
Made with High-quality safety TPR , no bad smell. Soft simulation channel feels like a real girl,omni-direction closely cover for your most amazing experience
All products come in discreet standard packaging, Keep your privacy in strict confidence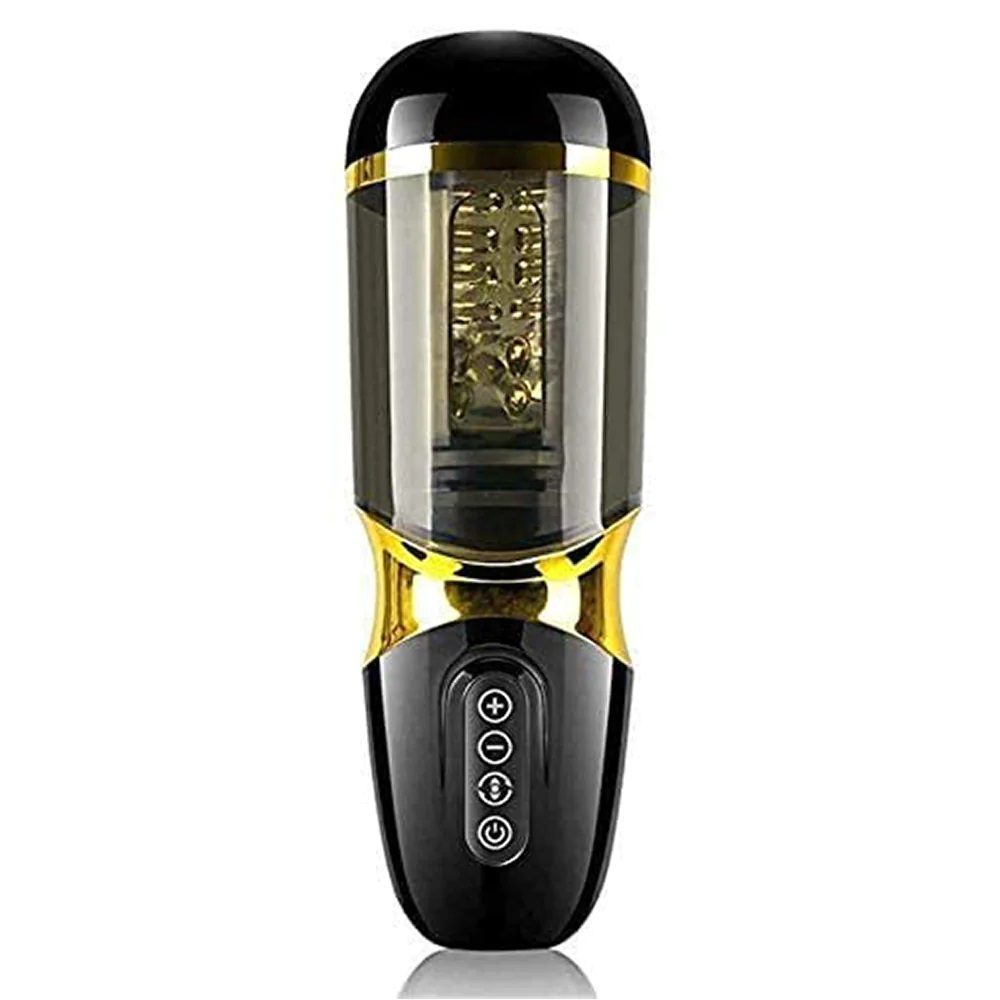 Highlights:
Ergonomic Design - Super simulated human physiological design gives you a comfortable and unparalleled feeling.
USB charging just simply connects the trusting male Masturabator cup to the USB port. do not worry about battery problems easy handle.
Built-in special convex granules, just the right friction will enhance your pleasure, and its companion will make you no longer alone.
Fully Automatic Vibration Suction Stroker - Automatic thrusting provides mind-blowing sensations and constant stroking motion that will satisfy your pleasure immensely!
Discreet Packing & Fast Shipping - We'll keep your item under strict confidentiality, nobody knows what's in it.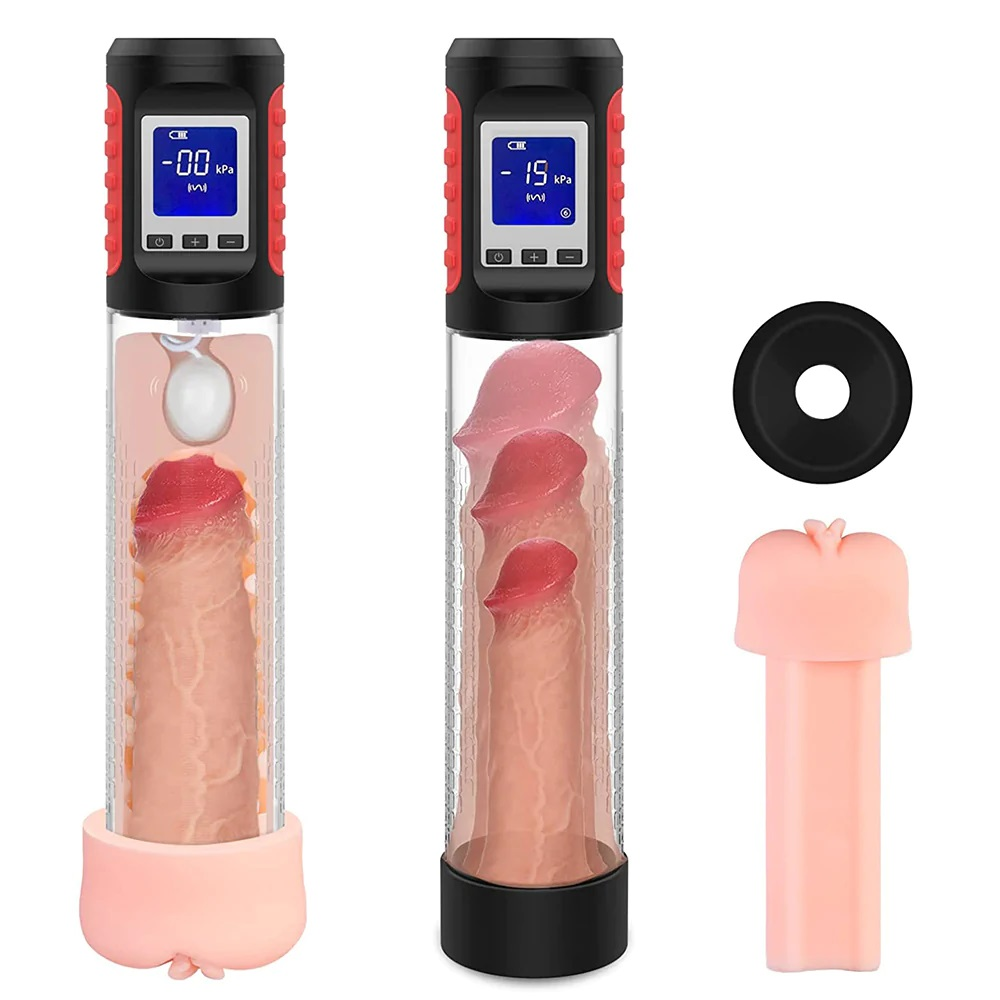 Highlights:
Vibrating Penis Pump
This powerful Penis Pump has a vibration and electric pumping function that helps to improve your erections and boost your sexual stamina while maximizing your pleasure and making your penis enlargement, which also comes with a male masturbator function.
Smart Setting & LED Screen Display
Equipped with 6 vacuum pump modes, including constant pressure mode of 1-3 levels and smart suction mode of 4-6 levels, the Vacuum Pump is helpful for erection training or masturbation for most people. (The screen will show the corresponding air pressure and level)
Removable Bullet Vibrator
You can know whether the bullet vibrator is correctly connected through the LED screen. With a strong vibration motor and 9 vibrating frequencies, the Erection Pump can meet all kinds of needs
Double Sleeves
The soft silicone sleeve is not easy to tear, which ensures the best sealing effect as it perfectly fits the pump body. In addition, the flesh sleeve is made of high-quality TPE, featuring odorless and phthalate-free performances. The flesh can be used separately or matched with this Enlarge Pump, taking your sensitive parts to a blissful excitement
Easy to Use
3 buttons switch/frequency button, pump button (middle), and pause/deflating button can realize real-time pause and fast deflating, moreover, the type-C charging makes the pump easier to use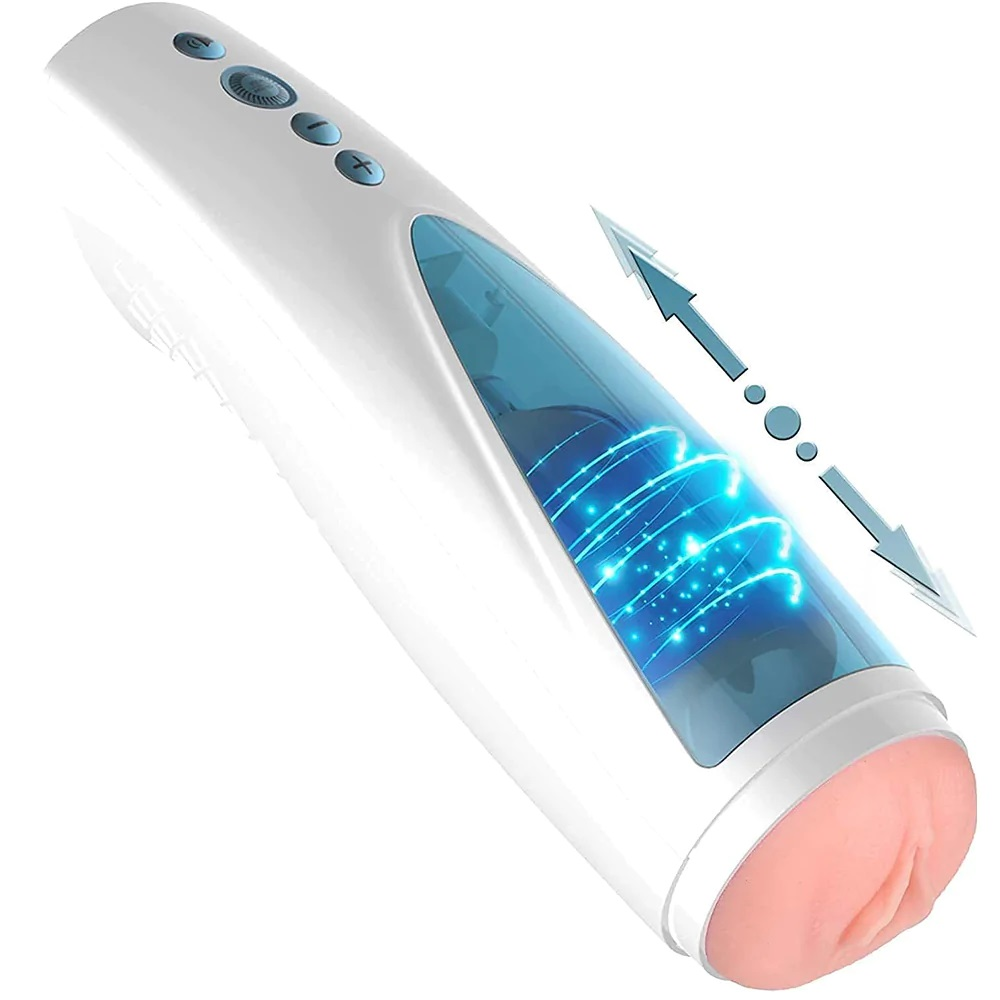 Highlights:
This male masturbator is always looking for the perfect balance between pleasure and reality. It has advanced vacuum suction technology and a unique internal structure to simulate the feeling of 360°deep throat sucking, just like your partner wraps your penis with a soft tongue. Every time you use the male self-sucking toys, you can feel the same orgasm experience as a real person and men's realistic masturabation feel.
This is a man's sucking toy with 4 inhalation modes and 6 vibration modes. It can provide any strength and mode you want. At the same time, the male masturbator cup also has a heating mode, you only need to turn it on a few minutes in advance, you can no longer fear the winter, and experience the same feeling at any time with this electric male masturbator cup.
This blowjob machine for men uses a brand-new TPE material, which is a soft material that mimics the skin and allows you to experience a real sense of flesh. At the same time, the automatic masturabator sexy toys have a stylish appearance and a high degree of fit with the hand.
The sucking massage for men has a detachable inner sleeve, which can be easily taken out from the cup to clean up under the tap. This male sex toy is also whisper-quiet compared with other masturbation toys, you can use the men's classic vacuum cup at home, movie theater, office, and other places without being discovered by others.
We will keep your purchase information confidential, and If you have any questions about the clampable men's cup blow-job machine, please contact us by email and we will help you asap! We always care about your shopping experience and the performance of the adult toys. We want to make our customers always enjoy our male masturbator!
Conclusion
When it comes to male masterbubators, there are a lot of options to choose from. You might be wondering: which one is right for me?
Well, not to worry – we're here to help. In this article, we'll go over the different types of male masterbubators available, and help you figure out which one is the best fit for your needs.
So, check out this collection – and get ready to have the best masturbation experience of your life!
Articles You Might Want To Read:
Things You Need to Know About Masturabator
The Hands Free Blowjob Machine That Will Make Your Life Easier
Introducing the Male Masterburbator: The Ultimate Male Sex Toy