Highlights:
The male masturbator toy has been cleverly constructed from ultra-lifelike, phthalates free TPR to deliver a fabulously fleshy feel and the most satisfying solo sex play of your life.

This is a life-like pussy-ass and Anal hot combo male masturbator sex doll. Go through the real vagina/anus, feel the protrusions and particles on the inner channel of the new double helix.

Two tight love tunnels spread open to accommodate your cock as you slide into her sweet pussy or tempting ass. Let the incredible texture of the sex snack that is your new curvaceous and cromulent cortaisan massage your cock to climax!

The closed-end real ass provides an even tighter sensation than ever when you stroke. Just like that of a virgin, to give you an unimaginable pleasure.

We value the privacy of our clients. So a special sealed box has been set out for the purpose of delivery, the ass masturbator is shipped expressly and confidentially without any trace of suspicious tags/words.
Love is in the air
You'll find the best positions to be letting it ride you from the front or back (both holes are extremely pleasurable) or if you really wanna do doggy style you'll just have to hold it yourself as you're standing and push and pull it yourself but a little more work is required. You will find the product to be a bit more on the loose side, a little airy in fact, but it doesn't degrade it in its arousal and sensitivity factors one bit. It is also easy to clean, it DOES fit in most standard sized sinks and all you have to do is drop some hand soap down in the canals and use your fingers to swoosh around and rinse, then dry with towel and store it properly somewhere lint free and you're good to go.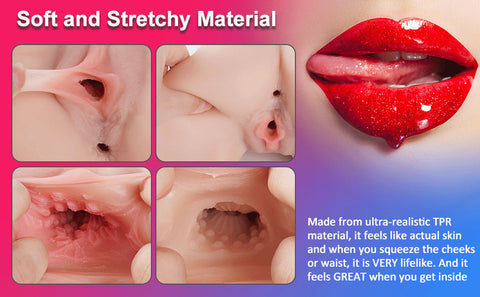 REALISTIC weight and mold
This masturbator is super realistic, to the real thing, down to the jiggle. The masturbator inserts are full of various textures which add so much pleasure, and this soft-like material will make you feel so terrific. Also, the masturbators weight helps it keep it in place while you are using it, the suction to this masturbator is incredible making it a snug fit for all sizes. If you're looking to spice up your alone time or maybe even your relationship this is a must have!
Easy to clean
Caring for this product is simple and quick. It fits easily in your bathroom sink. When you're done, wash it down with some warm water and liquid soap. Be sure to get the soapy water all the way to the bottom of the orifices, and flip her over so it drains out the opening. Do this at least 3+ times to ensure she is clean. Roll up a paper towel and by pushing it in from the middle longways feed one end all the way down into her orifices. Slowly pull them out while twisting them tighter so they don't rip, do this at least two times until the paper towel comes out dry. Last- AND MOST IMPORTANT -apply the corn starch everyone says to use. Apply it liberally, and you will quickly see it takes her skin from a rubbery sticky to incredibly soft and smooth silk. Don't forget to get some corn starch in her orifices too. Don't worry, you wo5LB Lifelike Sex Doll Male Masturbator with Virgin Pussy Ass for Maximum Pleasure, Realistic Male Stroker Sex Toy for Male Masturbationn't feel it the next time you use her, and it won't make your pepe fall off.