You've probably seen the automatic blowjob machine in action, and you're probably wondering if it's worth the price.
Fear not, dear reader. We're here to provide a comprehensive guide to using the automatic blowjob machine. After reading this post, you'll know everything you need to know to make an informed purchase.
What Is the Automatic Blowjob Machine?
The automatic blow job machine is exactly what it sounds like—a device that automates the giving of a blowjob. It's a hands-free way to get your jollies, and all you need to do is strap it on and let it go to town.
The blowjob sex toy is a device that provides simulated oral sex. It can be used by both men and women and is available in a variety of styles and sizes.
The best blowjob sex toys consist of a motor that powers a silicone sleeve. The sleeve is placed over the penis and the motor rotates the sleeve to create the sensation of oral sex. The machines are available in both single- and dual-motor versions.
Why Would Someone Want to Use an Automatic Blowjob Machine?
There are plenty of reasons someone might want to use an automatic blow job machine or other blowjob sex toy. Maybe they're not in a relationship and they miss the physical intimacy of sex. Maybe they're not getting enough oral sex from their partner and they want to supplement their sex life. Maybe they just like the feeling of getting a real blowjob.
No matter what the reason, using a blowjob toy is a great way to get that sexual release that you need. These machines are designed to simulate the feeling of oral sex, so you can get the same satisfaction you would from a real person. Plus, they're discreet and easy to use, so you can enjoy them anywhere, anytime.
To Boost Confidence
No one is born with confidence—it's something that needs to be earned. And what better way to do that than by using sex toys to be the blowjob simulator?
This little gadget is guaranteed to help you boost your confidence in the bedroom. It's perfect for those times when you feel like you're not performing up to standard, or when you just need a little extra help getting the job done.
Trust me, using a blowjob simulator toy is a surefire way to up your confidence game!
Have Better Sleep
Do you know what's better than a good night's sleep? A great night's sleep! And the best way to make sure you're getting the most out of your slumber is by using the best blowjob machine.
Improve Health
So you've decided to take the plunge and buy male sex toys. You're about to experience the best blowjob of your life. But before you can start enjoying all the amazing benefits these best blowjob machines have to offer, there are a few things you need to know.
One of the main benefits of using blowjob sex toys is that they can help improve your health. These machines are designed to provide a more intense and stimulating experience than oral sex alone, which can help improve your overall fitness and health.
Additionally, using a bj machine can help delay ejaculation and improve sexual stamina, both of which can lead to better orgasms and a more enjoyable experience for both partners.
Improve Relationship
The best way to improve your long-distance relationship is to use the automatic male masturbator or other blowjob sex toys! This will help you to get to know each other's bodies and learn what turns each other on. You can also use it as part of foreplay, or to finish each other off when you're too tired for sex.
The great thing about the machine is that it's adjustable, so you can make it as tight or loose as you like. You can also change the speed and intensity to create different sensations. The machine is very quiet, so you can use it discreetly without anyone knowing.
Have Better Ejaculation Control
Using a male sex toy is a great way to improve your stamina and ejaculation control. Remember to try not to focus on ejaculating too early. The goal is to last longer and enjoy the experience for as long as possible. Use the machine to practice delaying your orgasm, and you'll soon find that you're able to last longer during regular sex too!
Relieve Stress
The automatic blowjob machines can be used to relieve stress. If you're feeling tense or stressed out, the machine can help to ease that tension and make you feel more relaxed. It can also help to improve your mood and make you feel happier.
The machine can also be used to increase pleasure during sex. If you're looking for an extra bit of excitement during your next session, the machine can help to bring you to orgasm quicker and more intensely.
How Do You Use Automatic Blowjob Machines?
Before you can start enjoying all the benefits of your new toy, you need to know how to use it. Here's a step-by-step guide on how to use automatic blowjob machines:
Clean
The first thing you need to do is make sure that the machine is clean. All of the parts that come into contact with your skin should be disinfected with a mild soap or antiseptic. Be sure to pay special attention to the silicone sleeve, as this is where the majority of the bacteria will accumulate. Once the machine is clean, you can start using it.
Look for The Perfect Spot
Now that you've got your vibrating blowjob machine, it's time to find the perfect spot for it!
It's important to choose a place that is comfortable and won't cause any discomfort. A good spot is somewhere where you can easily reach it, without having to bend over or get too close to the action.
Some people prefer to use the machine in the shower, as the warm water can help to stimulate blood flow and make the experience more enjoyable. Others like to use it on their bed, for a more relaxed setting. Experiment a little and see what works best for you!
Check if It Is Fully Charged
Before you start using your new automatic blowjob machine, it's important to make sure that it is fully charged. Most machines come with a charging cord, so just follow the instructions in the manual.
Once it's charged, give it a test run. Lube up the sleeve and the orifice, and insert your penis. Gently press the power button and enjoy the sensations as the machine goes to work!
Add Some Lubricant
Adding some lubricant to the automatic blowjob machine is always a good idea. This will help to reduce friction and make the experience more pleasurable for both you and your partner. There are a few different types of lubricant that you can choose from, so it's important to do your research before making a purchase.
Water-based lubricants are the most popular choice, as they are safe to use with all types of condoms and sex toys. They are also easy to clean up and won't leave any sticky residue behind. If you're looking for something a little more luxurious, silicone-based lubricants are a great option. They are long-lasting, non-staining, and can be used in the shower or bath without worrying about them getting wet.
Start Slow
Now it's time to insert your penis into the toy. The toy should have a snug fit, but not so tight that it's uncomfortable. The most important thing is to start slow. Don't go too fast or too hard right from the start.
You'll want to let your partner get used to the sensation of the machine on their penis. Start with light pressure and increase gradually until you find the right level of stimulation. The machine can be pretty powerful, so it's important to take things slowly at first. Build up speed gradually as you get more comfortable with it.
Enjoy
Have fun! The Machine is a great way to add excitement and variety to your sex life. It can give a deep throat sensation or a realistic blowjob. Experiment and see what works best for you.
Tips for Getting the Most Out of Your Automatic Blowjob Machines
Now that you've got your very own automatic blowjob machine, it's time to learn how to use it properly! Here are some tips to help you get the most out of your new toy.
Use Pillows For Extra Comfort
When it comes time to use your automatic blowjob machine, it's important to make sure you're as comfortable as possible. This means using pillows to prop yourself up, and choosing a comfortable position. Some people prefer to lie on their back, while others find it more pleasurable to be on all fours. Experiment until you find a position that's perfect for you. Wear a comfortable outfit that allows you to move freely.
Watch Adult Videos
It's important to make sure that you're watching appropriate and arousing adult videos while using your machine. This will help to increase the pleasure you experience and make the experience more realistic.
There are plenty of great XXX videos out there that will get you in the mood for some serious playtime. Be sure to explore all of your options and find the ones that work best for you. Enjoy!
Lube is key
Lube is key when using automatic blowjob machines. You want to make sure that the orifice you're using is well-lubricated, otherwise, you run the risk of chafing or tearing the delicate skin. In fact, some people even use lube on the inside of the machine to create a better seal and reduce noise.
Make sure to keep a bottle of lube close by, just in case you need it! Always use a good quality lubricant with your automatic blowjob machines. This will help reduce friction and ensure a more pleasurable experience.
Experiment
Start by experimenting with the different settings to find what feels best for you. The machine comes with a range of exciting options, from different speeds to pulsating patterns. Try out a few until you find one that you really love.
And don't be afraid to get a little kinky with it either. Add some bondage restraints and see how it feels to be at the mercy of the machine. Or maybe try using it with your partner for some added fun. Every person is different, so it's important to play around with the different speeds and intensities to see what gets you off the fastest.
Add Some Vibration!
Once you have the basics down, it's time to start having some fun with your automatic blowjob machine! One of the best ways to do this is to add some vibration. There are a few different ways you can do this.
One way is to use a vibrating cock ring. This is a ring that goes around the base of your penis and provides stimulation to both you and your partner. Another option is to use a vibrating bullet. This is a small, handheld vibrator that you can use to stimulate your partner's clitoris or nipples while they give you a head.
Finally, you can also add vibration by using a motorized stroker. This is a Fleshlight-style toy that has a motor inside it that creates vibration. This will provide stimulation both to you and your partner, and is a great way to take things to the next level!
Know More About Self
You need to be comfortable with your own body. The machine is designed for use with both male and female anatomy, but you need to know your own body well enough to position it correctly.
Take A Break
Try taking a break every once in a while. If you feel like you're getting too close to the edge, take a quick break and relax for a few minutes. This will help to restore your stamina and make the experience more enjoyable.
Focus On Your Breathing
Now that you know how to use the machine, it's time to focus on your breathing. Remember, the key to enjoying any type of oral sex is to relax and take things slow. When you get too excited, it's easy to forget to breathe correctly. This can lead to premature ejaculation. Instead, focus on breathing deeply and slowly, and you'll last longer.
When you're using the machine, try to take deep breaths and exhale slowly. Not only will this help you to relax and get into the groove, but it will also make the sensation more pleasurable.
Keep It Clean
One of the most important things to remember when using your new automatic blowjob machine is to keep it clean! This means cleaning the machine itself after each use, and also washing your hands and genitals before and after use.
Cleaning the machine is easy—just use a damp cloth or a toy cleaner to wipe it down. You should also make sure that the orifice (the opening where you put your penis) is clean and free of lint or dust.
To clean yourself, take a shower or bath and use a mild soap or body wash to clean your genitals. Be sure to rinse everything off afterward, as residue from the soap can cause irritation.
What to Do if You're Not Satisfied With Your Automatic Blowjob Machine
If you're not satisfied with your automatic blowjob machine, there are a few things you can do. First, make sure you're using it correctly. Read the instructions carefully and make sure you're using the correct speed and intensity for your needs.
If that doesn't work, it might be time to try a different model. Not all automatic blowjob machines are created equal, so it might be worth investing in a machine that's more suited to your needs.
Finally, if you're still not happy with your machine, you can always return it for a refund. Just make sure you do so within the manufacturer's return policy.
How to Clean Your Automatic Blowjob Machine
Now that you know how to use your new automatic blowjob machine, it's time to learn how to clean it! This is important, as you want to keep your machine in good condition for as long as possible.
The best way to clean your machine is by using a damp cloth and some mild soap. Be sure to avoid getting the electrical components wet, and never use harsh chemicals or abrasive materials to clean it.
It's also a good idea to clean the sleeve that goes over the penis every few uses. You can do this by running it under warm water and using a mild soap, or you can purchase a special cleaning kit from the manufacturer.
Frequently Asked Questions About Automatic Blowjob Machine
Here are some of the most Frequently Asked Questions about automatic blowjob machines:
Is it safe to share my blowjob machine with others?
Is it safe to share your blowjob machine with others? The answer is yes, as long as you take some precautions. Be sure to sterilize the machine and all its parts before each use, and don't share it with anyone who has a skin infection or STI.
Also, be aware that the machine can be quite noisy, so if you're using it in public, make sure you find a discreet spot!
Should I use a condom every time I use it?
This handy device can provide you with hours of fun and pleasure, but there are a few things you need to know before you start using it.
The first thing to keep in mind is that the automatic blowjob machine should always be used with a condom. This will help to keep both you and your toy safe and clean.
Where should I store my blowjob machine?
Now that you've got your very own automatic blowjob machine, the next question is where to store it. Ideally, you want to keep it somewhere where it's easily accessible, but also discreet and out of sight.
Some people choose to keep their machines in their bedrooms, while others prefer to hide them away in the closet or somewhere else out of view. Ultimately, it's up to you where you want to keep it, just make sure it's in a place where you'll feel comfortable using it.
How To Choose The Best Automatic Blowjob Machine
There are a few things you need to consider when choosing the best automatic blowjob machine for you.
Price
The next question you're probably going to ask is, "How much does this bad boy cost?" Automatic blowjob machines can vary in price, so make sure to find one that fits your budget. Well, the automatic blowjob machine isn't exactly cheap. But it's worth it. You can usually find them for around $200-$300. Is that a lot of money? Yes. But it's an investment in your sex life. And believe me, you will get your money's worth.
Customer Reviews
Take a look at some of the customer reviews. This will give you a better idea of what to expect from the machine and help you decide which model is right for you.
As you can see, the majority of customers are happy with their purchase. They say that the machine provides an amazing experience and gives them exactly what they're looking for. However, there are a few people who have had negative experiences. Make sure to read the reviews carefully before making your decision.
Now that you have a better understanding of how the machine works and what others have thought about it, it's time to decide if it's right for you. Remember, only you can decide if this is something you want to try. But trust us, once you do, you won't regret it!
Size
When it comes to the size of the automatic blowjob machine, you want to make sure you get something that's going to fit your needs. There are a few different sizes to choose from, so you can find the perfect one for you.
The standard size is about six inches long and two inches wide, which is a good choice for most people. If you're looking for something a little bigger, there are also larger sizes available. And if you need something a little smaller, there are also mini-sized machines available.
So no matter what your needs are, you can find the perfect automatic blowjob machine for you.
Portability
When it comes to portability, the automatic blowjob machine definitely comes out on top. Not only does it come with a discreet carrying case, but it's also lightweight and small enough to fit in your luggage or backpack. This makes it the perfect travel companion, whether you're hitting the beach or spending a weekend away with your partner.
Design
When it comes to the design of the automatic blowjob machine, there are a few things you need to take into consideration. Firstly, you need to decide what type of machine you want. There are three main types: handheld, stationary, and wearable.
Handheld machines are the most popular type as they can be used anywhere and are easy to store. Stationary machines are designed for use in the bedroom and are more powerful than handheld machines. Wearable machines are designed to be worn during sex for extra stimulation.
You need to think about the features you want your machine to have. Do you want it to come with different attachments? Do you want it to be waterproof? Do you want it to have a rechargeable battery? Make a list of the features you want and compare different machines to find the one that's perfect for you.
Features
Consider the power of the machine. If you're looking for something that feels realistic, you'll want a machine with plenty of power. Take into account how noisy the machine is. If discretion is important to you, look for a machine with a quiet motor.
The Best Automatic Blow Job Machine for You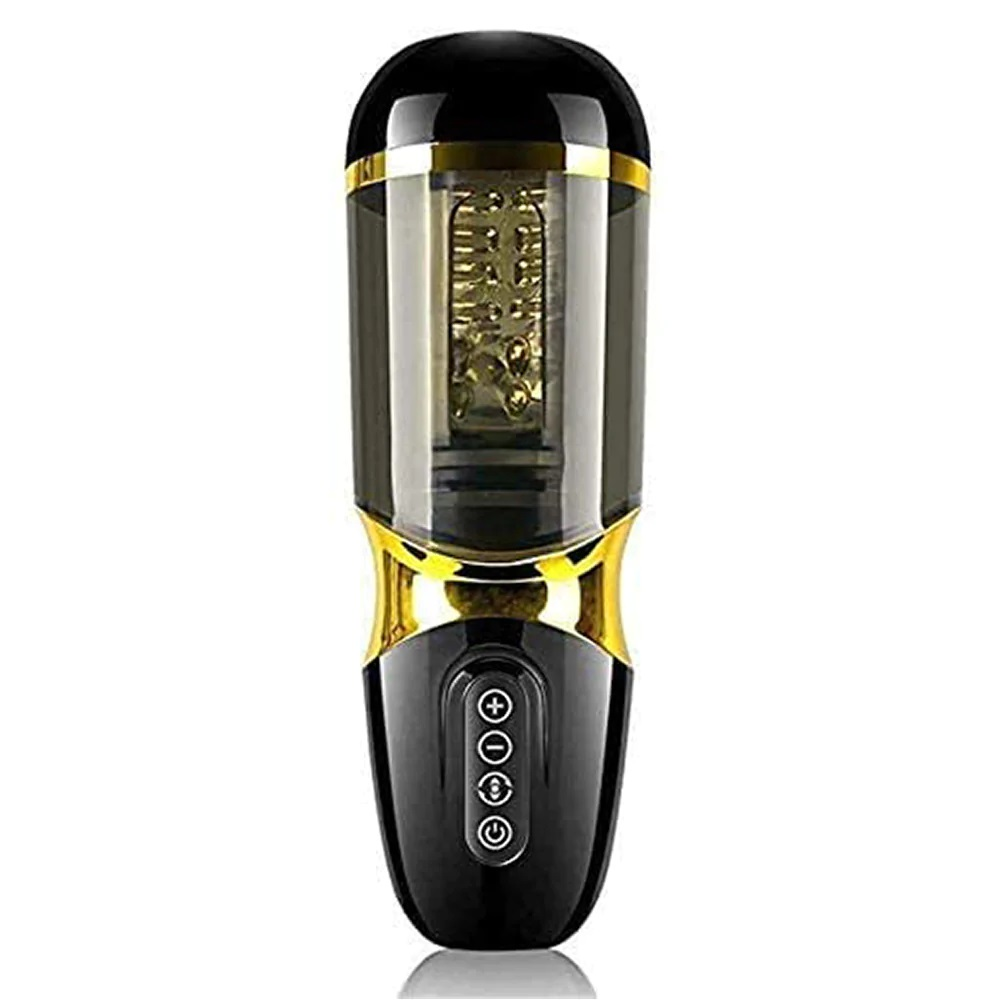 Highlights:
Ergonomic Design - Super simulated human physiological design gives you a comfortable and unparalleled feeling.
USB charging just simply connects the trusting male Masturabator cup to the USB port. do not worry about battery problems easy handle.
Built-in special convex granules, just the right friction will enhance your pleasure, and its companion will make you no longer alone.
Fully Automatic Vibration Suction Stroker - Automatic thrusting provides mind-blowing sensations and constant stroking motion that will satisfy your pleasure immensely!
Discreet Packing & Fast Shipping - We'll keep your item under strict confidentiality, nobody knows what's in it.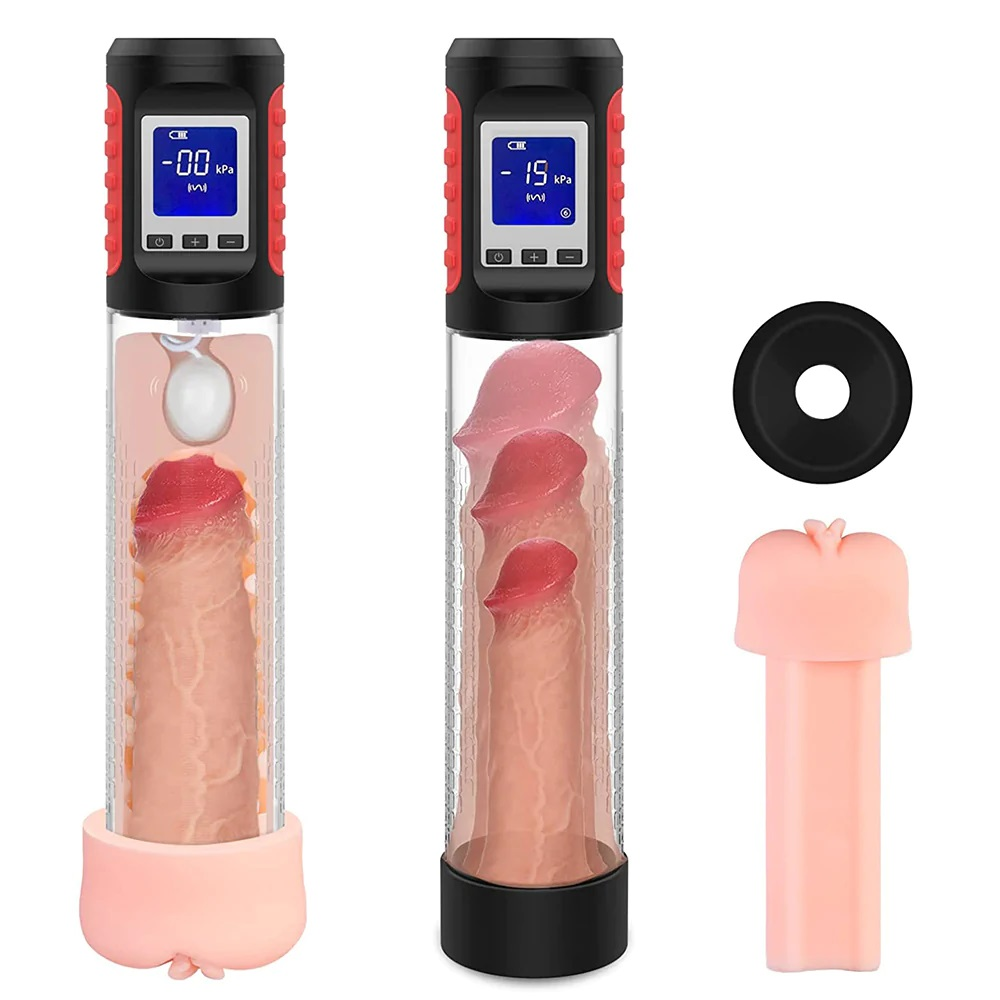 Highlights:
Vibrating Penis Pump
This powerful Penis Pump has a vibration and electric pumping function that helps to improve your erections and boost your sexual stamina while maximizing your pleasure and making your penis enlargement, which also comes with a male masturbator function.
Smart Setting & LED Screen Display
Equipped with 6 vacuum pump modes, including constant pressure mode of 1-3 levels and smart suction mode of 4-6 levels, the Vacuum Pump is helpful for erection training or masturbation for most people. (The screen will show the corresponding air pressure and level)
Removable Bullet Vibrator
You can know whether the bullet vibrator is correctly connected through the LED screen. With a strong vibration motor and 9 vibrating frequencies, the Erection Pump can meet all kinds of needs
Double Sleeves
The soft silicone sleeve is not easy to tear, which ensures the best sealing effect as it perfectly fits the pump body. In addition, the flesh sleeve is made of high-quality TPE, featuring odorless and phthalate-free performances. The flesh can be used separately or matched with this Enlarge Pump, taking your sensitive parts to a blissful excitement
Easy to Use
3 buttons switch/frequency button, pump button (middle), and pause/deflating button can realize real-time pause and fast deflating, moreover, the type-C charging makes the pump easier to use
Hands Free Masterbrators for Men Automatic Blówjobséx Máchine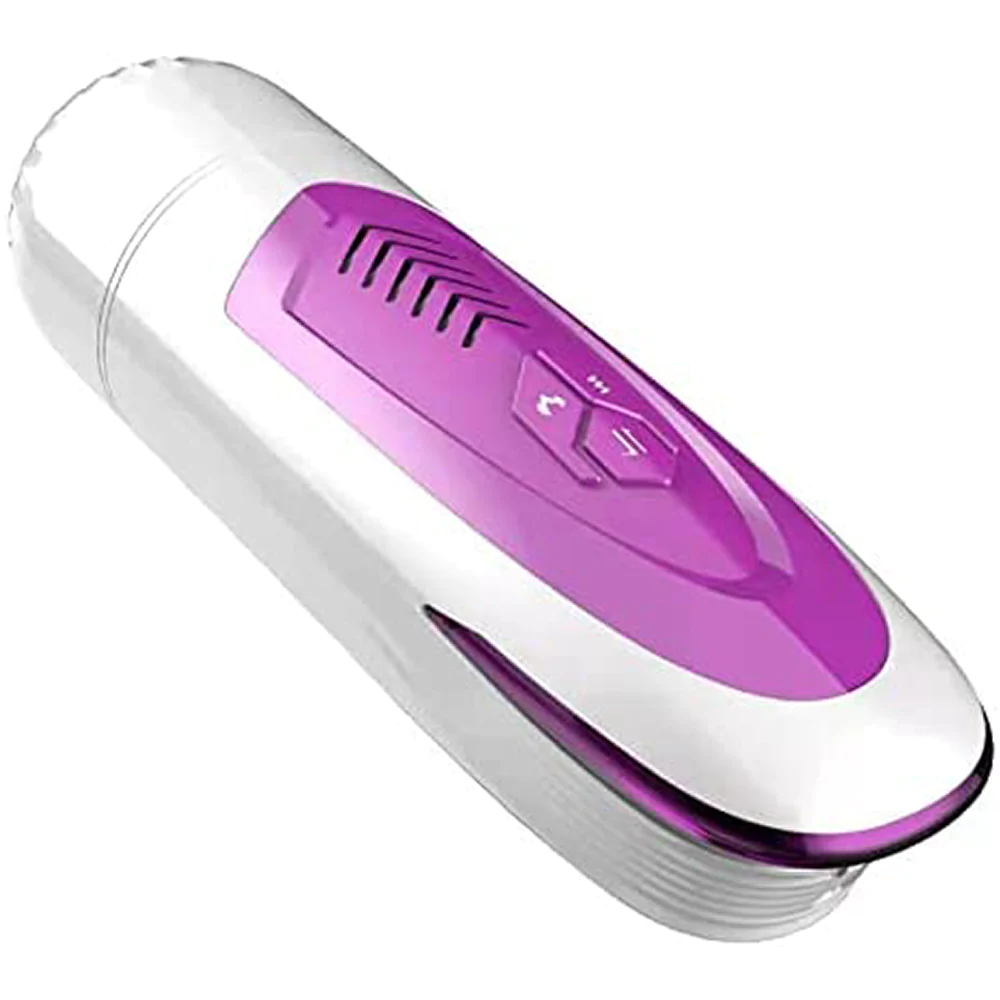 Highlights:
As a penis pump with 5 suction intensities, you will be able to increase the diameter and length of your penis. Just choose a proper level according to your specific needs for male enhancement stronger and bigger erection.
INNOVATIVE CRYSTAL TEXTURE - The sleeve is well designed with a good amount of texture. The clear side allows for nice visual stimulation. A variety of soft and elastic tentacles touch every inch of your cock and provide the most natural stimulation feeling that only a real partner can provide.
While this transparent male masturbation sleeve was designed to fit into the pump, this stretchy pocket pussy masturbator can also be used independently, on its own, for a completely satisfying stroking experience.
Made with High-quality safety TPR, no bad smell. Soft simulation channel feels like a real girl, Omni-direction closely covers for your most amazing experience.
All products come in discreet standard packaging, Keep your privacy in strict confidence.
Final Thoughts
So, there you have it! Our comprehensive guide to using the automatic blow job machine. We hope that this information has been helpful and that you enjoy your new toy! Remember to always use a water-based lube with this type of toy, and to clean it after each use. Here is the best collection of sex toys out there. Have fun and be safe!
Articles You Might Want To Read:
Why the Automatic Male Stroker Is the Ultimate Sex Toy
Automatic Male Masterbator: The Future of Sexual Pleasure